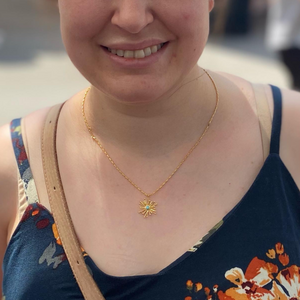 Starburst Necklace
Bursting with energy, this pendant will have you feeling like the star of the show. Turquoise and gold are paired together in this delicate piece that is custom made especially for you.
Stone: Turquoise                                                                      
Metal: 18k gold plated over brass
Length: 1 inch 
Width: 7/8 inch
Chain Length: 18 inches
This item is handmade-to-order. Please allow 1-2 weeks to ship unless this is in stock. Each piece will vary slightly due to the uniqueness of the stones.